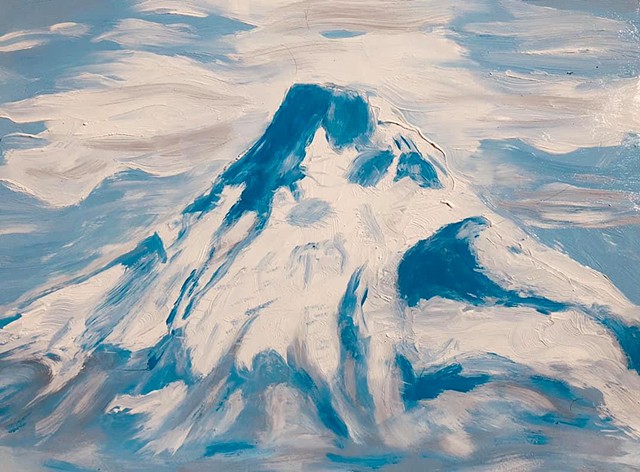 Mt. Hood, Oregon, Oil on panel, April 30, 2019.
NEW ARTIST SOCIAL MEDIA STUDIO PAGES! You can follow my studio practice on Facebook or on my new Instagram pages.
Please Note: I am working artistically for the next year primarily in the section for Assembly Zones and Bridge. I believe this program can help better our society, help extend the reach of resources to those most in need, and innovate on the application of art and design principles in a meaningful way. I hope you'll stay tuned for the work underway there.
I also have a horror comic I'm sequencing on this site for my queer graphic novel titled Pink On the Inside. This section, once begun, will include daily updates for the duration of available work to create what I've described as a new "horrorshow sequence," with more ultra-violent watercolor drawing panels that have been in progress since the onset of the pandemic in March 2019.
I have started a Patreon account for this effort, which you can check out (and hopefully donate to!) by clicking here.
Otherwise, please pardon my dust as I continue to update this site with archival materials. Work in the Portfolio section in the menu at left are organized by medium, with a considerable number of sub-sections.
As of January, 2021, ALL sections have been updated with new materials dating back as far as 2002. I have added over 100 hours of archival video and audio content, and updated long-running projects, including Curatorial & Projects, a fully updated Private Reading Series archive, Propositional Worlds documentation, Displaced Persons premier documentation, and two new sections: Social Practice, and the long-awaited Movement Matters Symposia, including Invisibilia, with my friend and artist, the late great Sabina Ott.
All of the video is worthy of Chromecasting or watching on a big screen, and were intentionally shot to cinematic quality standards. Similarly, the audio archival recordings are worth a pair of headphones.




RECENT PAST WORK
Most opportunities for new public work have gone silent due to COVID-19. But here's a sample of recent efforts:
DANCETRANSITS
Activate! & Chicago Department of Transportation
Plaza at Jackson & Homan
Aug. 31, Sept. 30 & Oct. 26 noon-1pm
Site-specific performance using dance and interaction to address the history of unceded native American land throughout Chicago, subsequent local place identity formation, and the social inclusions and exclusions of the resulting communities.
Documentation of the Aug. 31 performance is now available in the Active Investigations section of this site.
&NOW 2018 FESTIVAL OF INNOVATIVE WRITING
University of Notre Dame
Notre Dame, Indiana
Oct. 5-7, 2018 - Full schedule at the link.
J E L L O: SEVENTEEN
Links Hall
3111 N. Western Ave.
Oct. 10, 7:30-10:30pm 2018 - Full schedule at the link.
IN PROGRESS: PERFECT WORLDS / PROPOSITIONAL ATTITUDES
The Commons at the Museum of Contemporary Art, Chicago
Oct. 23, Tuesday 8am-9pm
A release event for Workman's Perfect Worlds: Artistic Forms & Social Imaginaries published by StepSister Press, Chicago, and research exchange for the kind of interactionist and instructional work showcased alongside finished pieces, such as Workman's Intimate Conversation, included in the anthology Propositional Attitudes, edited by Elana Mann and John Burtle, and published by Golden Spike Press this past spring.
PROPOSITIONAL WORLDS
SITE/less
1250 W. Augusta Blvd.
Tue, Oct. 23, 8:30pm-10pm (after MCA program)
Opening Reception, Fri, Oct. 26, 7-10pm
Sat, 4-10pm, Sun, 1-5pm - Full schedule coming soon
Starting Fri., Oct. 26, SITE/less will host a weekend-long selection of Chicago and L.A. choreographic, interactionist dance and performance instructionist artists from Propositional Attitudes, edited by Elana Mann and John Burtle, Golden Spike Press, L.A. alongside Michael Workman's Perfect Worlds: Artistic Forms & Social Imaginaries, StepSister Press, Chicago. Whereas Propositional Attitudes showcases finished written works including Workman's Intimate Conversation, Perfect Worlds is his first published volume of the journalistic and art critical research that serve as the basis of his interactionist movement, dance and performance instructions. A variety of selections will be presented from both volumes by performers selected collaboratively by the artists.
Workman's written choreographic instructions, images and video work samples of recently performed movement interactions are currently available for viewing.
Mat Rappaport's mobile art project range will inaugurate the event on Tue., Oct. 23 after the MCA closing at 8:30pm, traveling from a planned architectural remix performance outside the MCA to the fixed, socially-engaged space of SITE/less. range will transition into the space in collaboration with a new performance by Workman working-titled Drag.